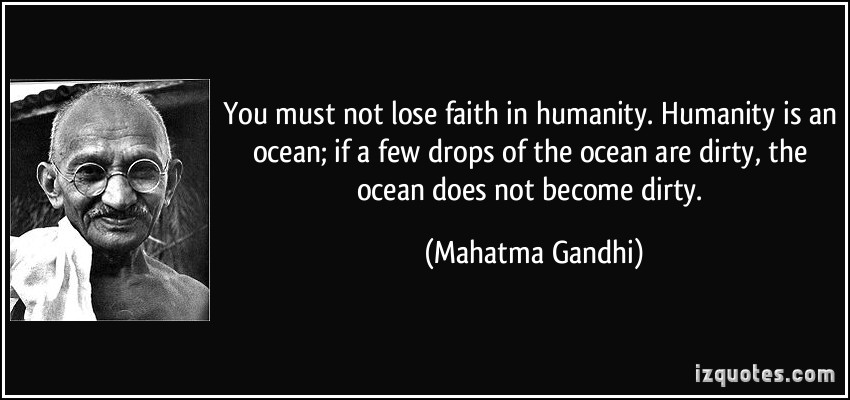 Image Credit: www.quotationof.com
Today, when our world is struggling against the darkness prevailed all around, I choose to look at the goodness in the hearts of the strangers, whom I had the opportunity to come across. After all, one cannot defeat darkness with the darkness; one must spread brightness to get rid of the darkness. A very good friend of mine once said something very interesting -- and quite mind-boggling -- that I wish to share with the world. She said,



"We are in an age when both evil and virtue are at their peak. The problem is that our mind is being put forth to too much darkness by the news. Of course, media's task is to report whatever is going on around us, and much of the attraction and interest arises to the mishaps; however, this is for us to decide whether we wish to be entangled with the darkness or witness the light. There is a large number of people who are devoting their time and energy to the welfare of the human beings; trust me, when I say this, the number of these people is a lot more than the evil-doers. Nonetheless, they do the deeds to make a difference and not to make the news."
I'll have to admit that, though her words were powerful and made sense, I did not agree with her. I wondered whether there was any truth to her statement that in this age goodness and wickedness are, both, at the peak. After a few days, I decided that I would notice the goodness around me, and see, if there is any reality to what she said. I witnessed many people going out of their way to help others. This was very inspiring to see that even in this fast pace of life, anybody would try to give any time to a stranger. Even in the news, I started reading about the parts that had nothing to do with how terrorists are terrorizing the world and claiming to crush everybody to prove whatever it is that they wish to prove. I am happy to announce that I found plenty of gems to admire.
I am dedicating this post to two of the gems that I came across a few days back. I am learning the French language, and in order to improve the usage and pronunciation of this beautiful language, I needed a partner. So, I checked out a website called http://lang-8.com/. This is a very nice initiative to bring different language speakers on one platform and help one another out in learning another language. I met a lady named Francine on this website. She went out of her way to help me in learning this language by communicating with me on a regular basis. One may think that this is not a big deal, but for a busy lady -- like herself -- taking out time to e-mail me, is a big deal. We, often, don't share these experiences with others, and that's why the instances of humanity and care are lost while the disgusting acts of evil make the headlines. I thank Francine from all my heart, and I hope she doesn't mind that I wrote her name in my post. I'll apologize sincerely to her, in person, if she felt that I intruded her privacy.
Another person, I wish to talk about, here, is another gem of a person, Kim. I believe many of you might have noticed that I make a few mechanical errors in my writing. I was feeling very low and decided to seek help. I wrote in BlogHer Writing Lab group of FB about the problem that I was facing. To my surprise, a wonderful lady, Kim asked me to send her a copy of my work. When I sent her one of my posts, she edited the whole thing, and she was quite humble about it, too. I have never seen anybody go to such an extent to help a fellow blogger. Not only I admire her, but also, I am inspired by her. Thanks, Kim!
I believe, if we all share a few of the good deeds with the world, we cannot eliminate the evil, entirely; however, we can spread a little light in this, otherwise, dark world. What do you say? Do you have any anecdotes that reignited the fire of humanity in your heart? I am sure that everyone would love to read about other experiences of goodness, too.